Home->Past Meetings->Reticules
Good Day, Janeites!
After a quiet period with no meetings, we are going to get rolling again by having a February Meeting on February 22, 12:30 – 2:30 at the
North Domingo Baca Multi-Generational Community Center
7521 Carmel Avenue, NE
Albuquerque, NM
(Map Attached)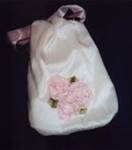 Hats shoes, and now reticules – a wonderful opportunity.
Ladies - Tana Reber has volunteered to give a class on making your own reticules to carry the accouterments necessary to have on hand with your dresses and costumes. Tana will be supplying many of the materials herself, but we will send out an updated suggestion list of things you might bring later this week.
We will have a raffle this time for several items, including several decorated boxes and other items (books, DVDs, etc.) .Buy a ticket and take your chances on winning one of these items!
I would like to apologize to Amy Swennes as I was unaware during our last mailing that Amy had lost her mother at about the same time as Nancy lost hers. If there are other announcements that you would like noted, I would be glad to let the group know.
As usual if you wish to be dropped from the mailing list, have a correction to your address, or know someone who might wish to be added, just send Dal a message and it will be done.
Thank you for reading!
Dal Jensen
The Knowledge Connection