Good Day, Janeites!

            Our next JASNANM meeting will be on Saturday, September 12 from 12:00 pm to 2:00 pm at the Manzano Mesa Multi-Generational Center in Southeast Albuquerque. The Manzano Mesa Center, a 37,000 square foot multigenerational center, is located at 501 Elizabeth, SE in Albuquerque. A map to the center is attached.

If you would like to bring food or drink, please let Joanne know at joannemccloskey@prodigy.net.
<![if !vml]>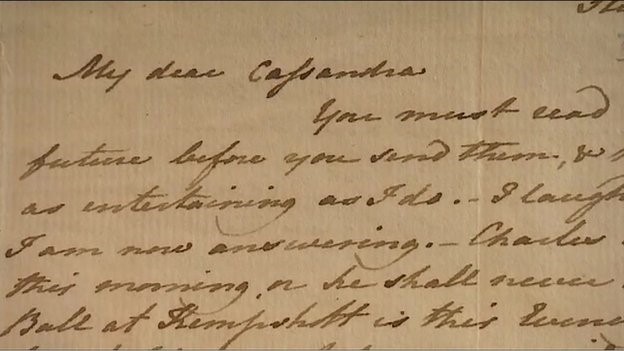 <![endif]>The meeting's topic will be Jane Austen's letters.  Please choose a topic from the list below to discuss at the meeting.  Let Joanne know what topic you would like to discuss. Email her at joannemccloskey@prodigy.net,  and she will send you a couple of letters listed under the topic from R. W. Chapman's collection ( Jane Austen's Letters to Her Sister Cassandra and Others, 2 vols, Oxford: Clarendon Press, 1932; revised, 1952).
<![if !vml]> <![endif]>

Possible Topics Include:

Balls

 Opinions:

Literature                

Beauty

Meals

Children

Names

Clergy

Nature, Gardens, Weather

Death

Newspapers

Education

Painting

Explanations 

Prices

Family ties

Carriages

Likenesses

Charities

Liking

Dress

Liveliness

Dueling

Luxury

Food and Drink

Marriage

French

Matchmaking

Games and Pastimes

Money

Hair, Hairdressing

Mothering

Handshaking

Old Age

Houses

Public Affairs

Jewelry and Plate

Religion

Letters

Virtues, Vices

Races  

Youth 

Remedies

Schools

Shooting

Spelling

Teeth and Dentists

Tips

Transport

Travel

Visits

Work
                Please take a look at our website when you have a chance – it has been updated again! The address is http://www.jasnanm.com. You might also look at the Facebook link  for JASNA

– It has a lot of information contained on it and you don't have to join to look!
It at any time you decide that you don't want to continue to receive our notices, you only need to send a short email to dal@jasnanm.com and I will be happy to remove you from our list. If you know additional individuals who might like to receive our mailings, a simple request to the same address will insure that it is done.
Dal
Dal Jensen
The Knowledge Connection
505-362-4143
<![if !vml]>
<![endif]>